5-Ingredient Chocolate Chip Cookie Dough Fudge Squares with Raw Manuka Honey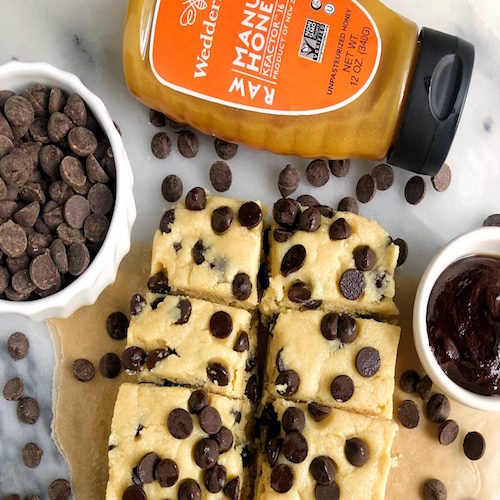 As much as we enjoy a freshly baked chocolate chip cookie, sometimes munching on the cookie dough is the best part! But, traditional cookie dough made with egg has the potential to make you sick if you eat it raw. We know you likely sneak a bite or two of raw cookie dough anyway (most of us probably do!), but, we're happy to share with you that we've got a recipe for cookie dough fudge that tastes just like your favorite raw cookie dough, except, it's dairy-free, gluten-free and completely safe to eat!
Requiring just five ingredients, including Raw Wedderspoon Manuka Honey to sweeten it up, this recipe is one you will enjoy just as much as the kids will! No more hiding the cookie dough or resisting the urge to scoop a spoonful or two out of the mixing bowl. 
These chocolate chip cookie dough fudge squares have the same soft texture that you envision when you think of real cookie dough. It's easy to chew and melts right in your mouth. Filled with lots of dark chocolate chips (the more, the better!) and Wedderspoon Raw Manuka Honey, they're rich and delicious. Just one bite will satisfy your sweet tooth! It's also easy to customize. Adjust the number of chocolate chips and amount of Raw Manuka Honey to your liking. 
It will only take you about ten minutes to make these, however, they need to set in the fridge for about two hours. So, if you are making this treat to take to a gathering or party, make sure you leave yourself enough time for this. 
Though this recipe is real quick and easy to whip up, you can store chocolate chip cookie dough fudge squares in your freezer if you'd like. That way, when a craving hits, it's ready to go!
Ingredients:
2 cups almond flour
1/4 cup coconut flour
6 tablespoons Wedderspoon Manuka Honey 
1/3 cup liquid coconut oil
1/2 cup dark chocolate chips
Directions:
In a medium sized mixing bowl, add the almond flour, coconut flour, Raw Manuka Honey and coconut oil. Mix well until a dough forms. (You should be able to mix this up simply using a spoon - a food processor is not necessary)
Fold in the dark chocolate chips and continue to mix.
Pour into a greased 8x8 baking dish or loaf pan. We suggest lining with parchment paper for easier removal.
Put into freezer for two hours. 
Slice and enjoy!
Leftovers can be stored in the fridge for a day or two, or, in the freezer for up to two months. However, we have a feeling this will be eaten quickly and you won't have too much leftover to worry about!
If you're in the mood to make more fall treats, may we suggest Pumpkin Spice Donuts, Raw Apple Pie Energy Bites, or Plant-Based Protein Snickers Bars? They are all equally delicious and will get you into that Fall mood you may be struggling to feel this year. 
Wedderspoon Manuka Honey is pantry staple, so make sure you don't run out! Stock up on your favorites.
Shopping in Canada? Your favorite Wedderspoon products, including the Manuka Honey used in this recipe, are available in our Canadian online store.